HelpMyFood : Transparent Food Waste Reduction for Your Local Purchases
HelpMyFood, the transparent anti-waste app that connects you with local businesses. Discover clear and advantageous offers, without any unpleasant surprises. Save money while taking a step for the planet and supporting your local merchants. Empower your budget and join our movement against waste today!
Discover the benefits of HelpMyFood. Who are you?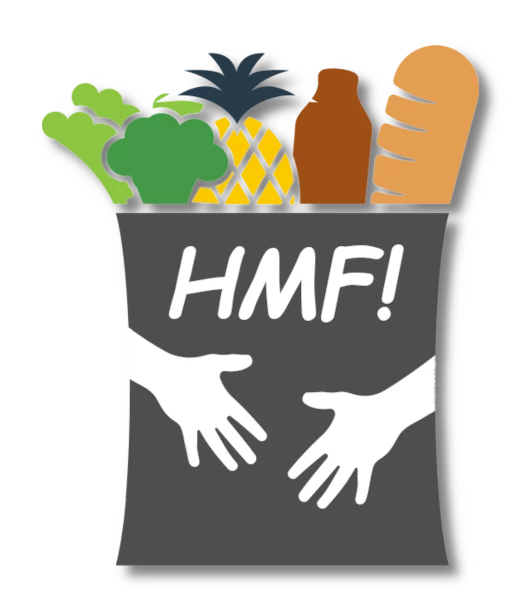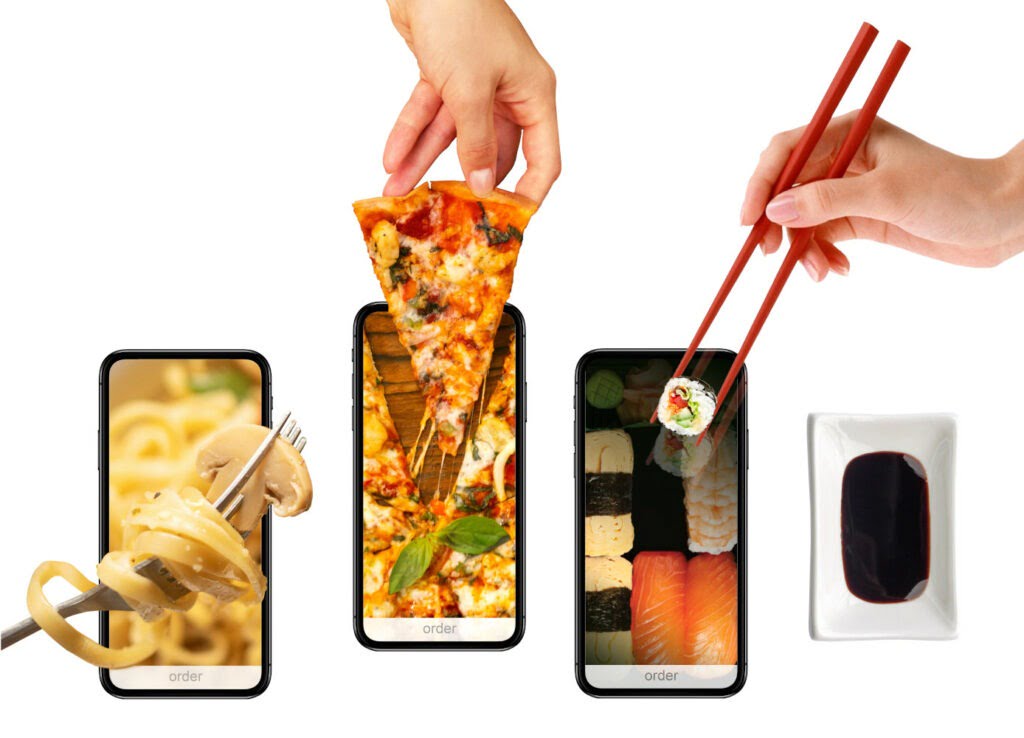 Anti-waste without surprise: Transparency above all
At HelpMyFood, we firmly believe that trust is the cornerstone of any relationship, whether it's between a merchant and a customer or between a platform and its users. That's why transparency is at the heart of our approach.
When you browse our app, each promotion is detailed meticulously. Unlike other solutions offering 'mystery baskets,' with the HelpMyFood anti-waste app, you know exactly what you're purchasing. Be it product details or specific aspects like vegetarian compatibility or even potential allergens, everything is clearly stated.
We believe you deserve all the information at your fingertips to make informed choices with peace of mind. It's through this transparency that we build a strong, committed community where everyone knows what to expect.
But transparency isn't just about products. It's also about how our platform operates. No hidden fees, no unexpected subscriptions, just a clear and honest approach allowing you to support local commerce while making savings.
---
Transparent Anti-Waste: Local Deals at Your Fingertips
One of the true beauties of our community is its closeness. The HelpMyFood anti-waste app, free of surprise baskets, doesn't just connect you to promotions; it ties you directly to the soul of your neighborhood, to those merchants who make our streets pulse with life.
By choosing local shopping, you bolster the nearby economy, champion artisans, producers, and small shops that further shape the character of your surroundings. Every deal you uncover is the result of hard work and passion from a merchant near you.
But there's more. The benefit of local offers is also the assurance of unmatched freshness. No more wondering where your products come from or how long they've been on the road. With the HelpMyFood anti-waste app, each item is handpicked and highlighted by merchants who share a vision for quality.
So, in addition to saving money, by choosing HelpMyFood, you're embarking on an authentic shopping journey, centered around the treasures that your locality has to offer.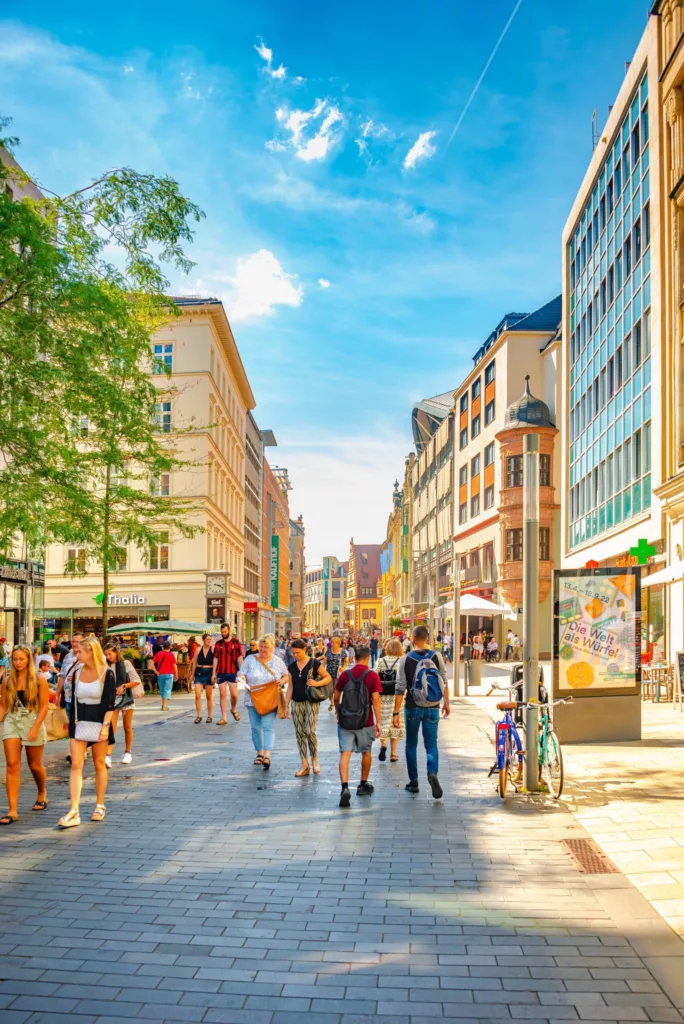 ---
Fight food waste
Food waste is a significant issue, affecting every step of the food chain. Every year in France, several million tons of food end up in the trash when they could have been consumed.
With the surprise-free basket app, HelpMyFood, every deal you choose has a direct impact on reducing waste. Not only do you benefit from high-quality products at reduced prices, but you also contribute to a more responsible circular economy. By choosing to consume mindfully, you're taking concrete action to preserve our planet.
Beyond the environmental aspect, fight food waste also means affirming social responsibility. Every product saved from the trash represents energy, resources, and labor that haven't gone to waste.
Join our anti-waste movement and become an agent of change, all while enjoying outstanding local opportunities.
A small step for your wallet, a giant leap for our planet.
---
Transparent anti-waste: How does it work?
Explore & Buy
Discovery of Promotions: Begin your journey by exploring a plethora of enticing local deals directly from your surprise-free anti-waste app, HelpMyFood. Every promotion is detailed, so you know precisely what you're purchasing.
Easy Purchase: Once you've found the deals that pique your interest, add them to your cart and finalize your purchase with a few secure clicks.
Present your QR-Code
Get Ready for Pickup: After making your purchase, your order QR-Code will be instantly available in your app. You can choose to present it directly from your phone or print it out if you prefer a more traditional method.
Contactless Pickup: By presenting the QR-Code to the merchant, you further minimize physical contact for a safer and swifter experience.
Collect your order
Quick Validation: The merchant uses the HelpMyFood merchant app to scan your QR-Code. Within seconds, the validity of your purchase is verified.
Receive Your Products: Once scanned and the purchase confirmed, the details of your order are displayed for the merchant who then prepares your items. All you need to do next is collect your products and enjoy your savings!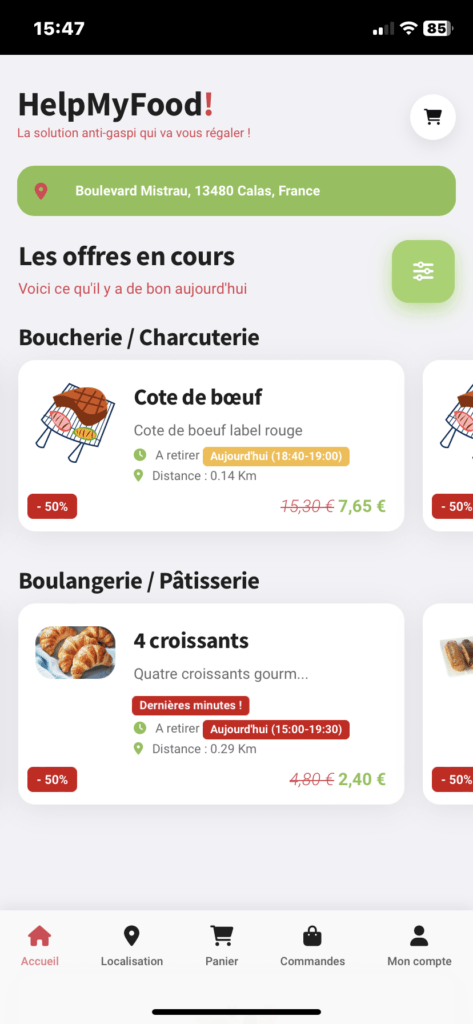 ---
Anti-waste without surprise: User testimonials
Since using HelpMyFood, I have made real savings while supporting my local merchants. The process is simple, transparent and I love knowing exactly what I'm getting back. No more surprise baskets!
Between my work and my family, I don't always have time to hunt for deals. With HelpMyFood, I can quickly see promotions in my local businesses and plan my purchases accordingly.
I have always been concerned about food waste. Thanks to HelpMyFood, I can play an active role in combating this problem, while benefiting from great promotions. It's a win-win for me!
I'm vegetarian, and being able to know the details of the promotions and see if they are compatible with my diet is a huge plus for me. HelpMyFood has really thought of everything!
Questions and Answers about the anti-waste app HelpMyFood
How can I use the HelpMyFood anti-waste app as a consumer?
It's easy! Download our app, browse offers from local merchants, make your choice, and benefit from savings on fresh and local products.
How can I download the HelpMyFood anti-waste app?
You can download the HelpMyFood anti-waste application from the App Store for Apple users, from Google Play for Android users or even without downloading in WEB APP version. Follow the download links available on our website.
How can I help reduce food waste using HelpMyFood?
By choosing HelpMyFood, you automatically contribute to the reduction of food waste by recycling unsold items from local merchants. Every purchase you make helps minimize losses.
What are the benefits for me as a consumer?
As a consumer using the anti-waste app HelpMyFood, you are positioned at the forefront of multiple advantages:
Transparency: Unlike other platforms that offer mystery deals, with HelpMyFood, you always know exactly what you're getting. Every offer is meticulously detailed, so you're never in the dark.
Savings: Access exclusive local promotions, allowing you to save money on quality products that you love.
Support Local: Every purchase you make directly supports local businesses, playing a pivotal role in boosting the local economy and ensuring the sustainability of unique, community-focused ventures.
Eco-friendly Choice: By choosing to buy discounted products that might otherwise go to waste, you actively contribute to reducing food wastage – an environmental and ethical imperative in today's world.
Seamless Experience: The app's user-friendly interface ensures a smooth and secure transaction process, from selecting offers to the in-store QR-code validation.
Feedback Mechanism: After your purchase, the platform allows you to rate merchants and leave public feedback, ensuring that the community thrives on mutual trust and accountability.
Stay Updated: Be the first to know about the latest offers and promotions in your locality, ensuring you never miss out on a great deal.
In essence, HelpMyFood offers a holistic shopping experience that's not just about great deals, but also about making informed, ethical, and community-driven choices.
How can I contact HelpMyFood customer service if I have a problem?
You can contact us via our contact page on the website or directly from the app. We are here to help you !
Are there any hidden or subscription fees for users?
Absolutely not. HelpMyFood is free for users. You only pay the transaction amount when you make a purchase.